ICT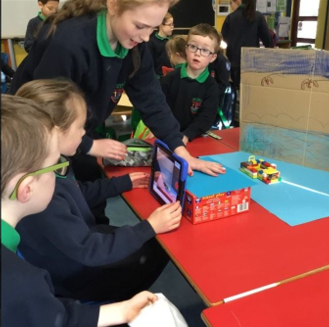 The development of ICT is a School Development Plan priority. We want all our pupils to be properly equipped with the relevant ICT skills, knowledge and experiences which will allow them to be successful contributors to a modern society.
Already we have taken a number of steps to help us achieve this.
In-service Training:
During Staff Development Days in August the Nerve Centre Belfast provided teacher training on the use of iPads in the classrooms. Our staff development day in January will focus on ICT, with training from the co-ordinator in the area of Film and Animation. This is the area of ICT that we will develop with our pupils in Term 2.
As a taster to 'Film and Animation' the Primary 7 pupils made a surprise visit to Primary 1-3. The pupils were delegated the task of creating a short animation. Working with their partners, they created lego characters and designed the background. With all this in place, the pupils then made their first animations. There was an incredible amount of hard work put into the planning and ultimately, the production of these short animations. I am just delighted with the effort and enthusiasm displayed by the pupils (and the assistants).
Watch out Spielberg, the Moneynick pupils are coming!
Mrs F McConway
ICT Co-ordinator
Moneynick Primary School, 104 Moneynick Rd, Randalstown, Antrim BT41 3HS | Phone: 028 7965 0331